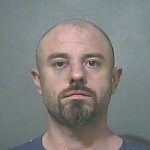 TERRE HAUTE, Ind –  An overnight stand off with Terre Haute City Police has come to a peaceful end.
News 10 reports that it started around 9 p.m. Sunday night at a home on Oakland Avenue and lasted for about 4 hours.
City Police Chief John Plasse says that officers were called to the home when 35-year-old Christopher Blanton fired a gun.
A police robot went into the home first and then officers went in and found Blanton hiding in the attic.
Blanton is being held on charges of criminal recklessness and pointing a firearm.
He will make his first court appearance later today.