The Legend Morning Show with Barry Kent
MONDAY to FRIDAY -- 05:00 AM - 10:00 AM
95.9 The Legend  Morning show from 5 a.m. to 10 a.m. Monday through Friday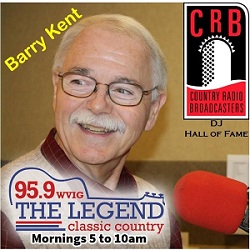 Barry Kent: The Legend Morning Show Host, Operations Manager
Barry has been waking up the Wabash Valley for over 40 years.  Barry started his radio career in 1969 and has been at it ever since.  Barry was inducted into the Country Radio Broadcasters DJ Hall of Fame in 2011.
Barry has won many awards and accolades over the years including The Tribune-Star readers poll for Favorite DJ, Indiana Broadcasters Association Air Personality award and many others.
Barry is not only the Legend Morning Show Host but is also The DLC Media Operations Manger for Terre Haute/Brazil/Rockville stations.
Barry lives in West Terre Haute with his wife Kelly and sons, Barry & Brent.
Bary holds a General Class FCC license formerly the First Class Radio Telephone License and has been a licensed Ham Radio operator since the age of 15.  WA9ZWA.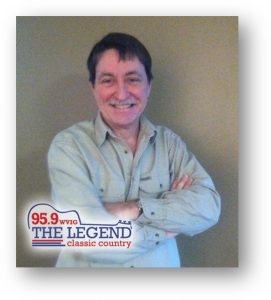 Frank Rush: News anchor and Morning Show Co-host
Frank has lived in Terre Haute since elementary school and graduated from Terre Haute North in 1982 when he began his career in radio.
Frank has worked at every station in the area and some more than a couple of times playing all different kinds of music. He hosted talk shows and has done news for the past several years.  For most of that time he has run his own business playing music for weddings and other parties.
His wife Duree (Mrs. Rush to her students) and Frank have been married since 1986 and live in the southern part of the county. She has been at Hoosier Prairie Elementary since 1988, where she has taught 3rd grade for most of that time.
They currently have one dog and three cats.
Frank likes to watch all the Star Trek shows and has collected hundreds of Matchbox and Hot Wheels cars since he was very little.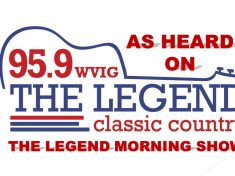 March 30, 2020 Terre Haute Mayor Duke Bennett joined Barry & Frank on the Legend Morning show and talked about The Coronavirus Pandemic and...
Read More
MAYOR DUKE BENNETT ON THE LEGEND MORNING SHOW
The Legend Morning Show
TRUMP AND OBAMA FACE OFF ON THE ECONOMY
The Legend Morning Show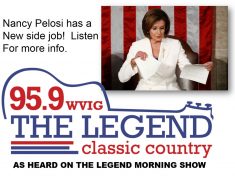 As heard on The Legend Morning Show February 6, 2020...
Read More
Nancy Pelosi has a new side job
The Legend Morning Show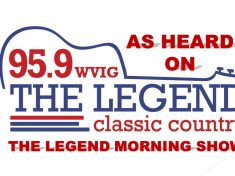 As heard on The Legend Morning Show 1/27/20...
Read More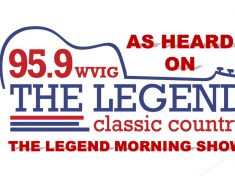 Dolly Parton has entered into partnership with American Greetings for a line of Dolly Greeting Cards full of Dolly-ism's  The Legend Morning Show singers...
Read More
AS HEARD ON THE LEGEND MORNING SHOW
The Legend Morning Show