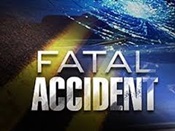 MORGAN COUNTY, Ind.–A Clay County Woman was killed in a Morgan County crash Friday morning.
22-year-old Ashlynn Simmons of Brazil, was driving her 2002 Jeep SUV on State Road 67 when she went off the road and hit a tree. The crash happened around 7:40 a.m.
No one else was in the vehicle.
Police are continuing to investigate as they don't know what caused the crash.
Her online obituary said that Simmons was an assistant manager at the Martinsville Walmart, and was a 2016 graduate of Northview High School.